How To Write a Successful College Graduate Resume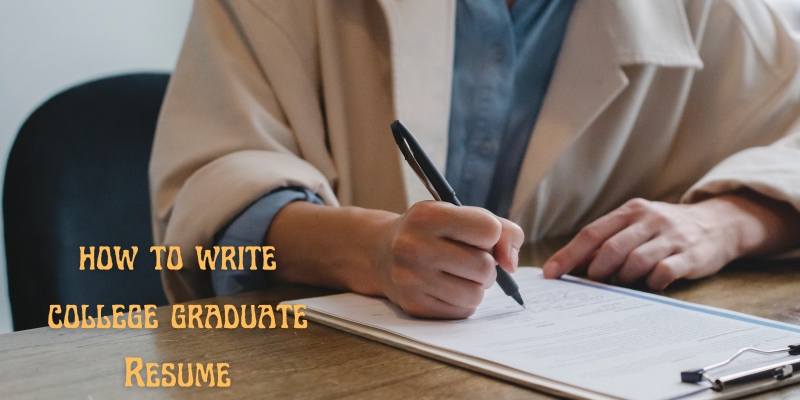 As an entry-level employee seeking first job after your graduation, there are several things to consider whilewriting your resume. A college graduate resume showcases the skills, experience, and education background of a recent college graduate. These kind of resume should give priority to education, internships, skills, and training of the job seeker.
You college graduate resume should:
Show your Education Background
Communicate your strengths
Elevate your experience
Demonstrate skills relevant to the position you are applying for.
There are four basic steps of writing a college graduate resume
Provide professional & accurate contact information
Create a resume summary
Highlight your Education, experience, and skills
State your hobbies, and interests
Provide professional & accurate contact information
When the employer firsts opens your resume, the first thing he/she looks at is your contact information. You should include your name, address, contact number, and email address. Your emails address should include your first and last names. Avoid vague names in your email as they tend to create a negative attitude toward you.
In the digital era, the address is not necessary if the resume I being sent electronically. Also consider having a professional LinkedIn and social media profiles.
Create a resume summary
Resume summary summarizes your skills, experience, and Education. The resume should not be too long. The employer does not have all the time to look at your resume and therefore you need to highlight the most important first. Without much experience, your skills, and education background are your strengths.
Highlight your Education, experience, and skills
This are your strengths and should include the following:
1. Education: include school attended, specialty training and any other certification earned. Here, mention GPA attained on each category.
Avoid mentioning high school information in you professional resume.
Start with the most recent to attain.
2. Experience:
Include your internships, work history, and/or volunteer activities.
3. Skills:
Highlight skills that are relevant to that specific job you are applying for.
It is of utmost importance to highlight the key words in your resume. While highlighting your skills, it is important to conduct a background research about the position and skills required for successful applicant.
Include both soft and hard skills.
Examples of Hard Skills: Adobe Photoshop, MS Office, Programming etc.
Example of Soft Skills: research, team leadership, time management, collaboration etc.
Emphasize hobbies, interests, publications, and associations.
In this section, highlight any hobbies that you are actively involved in. Any association that you have joined or collaborated with. Only highlight verifiable information as the employer might be interested in conducting background checks.
Do not forget to highlight referees whom the employer can contact to enquire about you and verify information relevant to the applicant. Ensure the listed referees know you and have basic information about you. Ensure you inform them in advance that you have listed them and they might be contacted.